Bill Sparkman,
Sales and Marketing Trainer, Coach, Motivational Speaker, and Author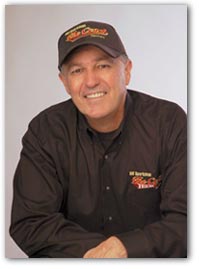 A Message from the Coach
Education and action are the keys to success for every salesperson. To earn more you have to learn more, and put that knowledge to work. Action is the bridge between new ideas and new results. It takes more than a positive attitude to grow your business. A positive attitude will not compromise for a lack of skill or a lack of commitment. You can't let good become the enemy of great. Your customer isn't buying average. Today you must be an expert in your customer's eyes. Most people succeed at becoming average...companies applaud mediocrity everyday...when did it become okay to be okay?
These are times of great change and if you are not willing to roll with the changes, your business will become extinct! Those that continually re-invent themselves and their businesses will flourish and prosper from taking advantage of today's opportunities as well as today's challenges.

Don't become passive in your thinking or actions. This is the time to be pro-active. Raise your game and seize the market! Winning is often inconvenient ... so is losing!!
-- Be Your Best and Keep Winning -- Bill, The Coach
FIRE UP YOUR SALES TEAM!
Bill Sparkman is one of America's Top Sales Trainers and Motivational Speakers. His approach to business and life has thrilled his audiences since 1987. Bill's "clipboard style" of educating was developed after a successful career in the world of sports as a player and a coach. He makes learning fun! Click here to book Bill for your next event
BILL SPARKMAN'S
SELLING SYSTEM

Turning Prospects into Profits

$99.95

SPECIAL $79.00

+ shipping

HOW TO SELL TO AN IDIOT

12 Steps to Selling

Anything to Anyone.

$14.95

+ shipping


Sign Up NOW for Bill's FREE Weekly E-Tips. Enter your email address here: