Mortgage Loan Products and Programs

6 Steps to 6 Figures
Get the Mortgage Originators Fast Track to success with Bill Sparkman's 6 Steps To 6 Figures training and coaching program. The training focuses on 6 critical areas of your business that need to be air tight to get your business to the next level fast!

$179.00
Special $129.00
+ shipping

6 CRITICAL AREAS OF FOCUS:

Preparation
The Right Sales Skills
Lead Generation
Lead Management
Time Management
Self Discipline

WHAT YOU WILL RECEIVE:

6 Steps to 6 Figures 78 page workbook
6 audios
How To Create Unbreakable Alliances With Realtors - CD
For Sale By Owner Marketing System - CD
Power Team Marketing Strategy - CD
Total Success Goal Setting - CD
CLEAR TO CLOSE!


The Real Estate Agents Guide to Turning Prospects Into Paychecks

"Bill Sparkman is the best! He is masterful at showing how people can take proven, old school techniques and blend them with new world technologies to achieve instant results. His books are a must read for anyone wanting to grow their business. I highly recommend!" J.D. - Coldwell Banker, TN

Learn How to Maximize Your Potential, Become a Magnet for Buyers and Sellers, and Navigate the Market Like a Pro – All the Way to the Bank!




$16.95
+ shipping


Bill will teach you how to create predictable income and turn suspects into prospects and prospects into closings. You will also learn:

How to overcome self-sabotaging behaviors!
How to structure your business to acheive maximum success!
How to find buyers and sellers that are fully qualified and motivated!
How to get buyers off the fence and into a contract!
How to turn your business into a residual income stream!
Plus much more!

Bill Sparkman, The Coach
Sales Trainer, Coach, Motivational Speaker and Author
Bill Sparkman's exclusive "Selling System" is designed to assist new or seasoned salespeople to achieve maximum results, consistent performance, and predictable income. Bill will teach you his step-by-step system to get from "Hello" to "Where do I sign". You will find practical tools and strategies that will increase your conversion rate, increase sales and boost your income. Bill's Selling System makes selling fun!

$99.95
SPECIAL $79.00
+ shipping

WHAT'S INSIDE:

3 Audio CD's that will provide direction and a solid sales presentation
1 CD Rom of support forms and tools you can use

BILL WILL SHOW YOU:

How to turn suspects into prospects, prospects into
customers
How to overcome buyer's indecision
His 7 Step Selling System, a structured sales presentation
How to build instant rapport, confidence, and trust with
your customer
Overcoming objections from your toughest customers
The #1 close of all time

Bill Sparkman has coached, trained, and motivated thousands of sales professionals nationwide. He has been creating and developing salespeople in all fields since 1987.
"For Sale by Owner Marketing Strategy"
$24.95 CD

A step-by-step system for generating more buyers from every FSBO you work with
How to generate inbound calls from your FSBOs

"For Sale by Owner First Aid Kit"
$30.00 CD ROM

Complete Sellers Assistance Program
Step by Step FSBO Game Plan
Sample Flyers You Can Use
Contact Schedule - How and How Often
29 Tips to Get FSBO Sold Faster
Script to Get Initial Appointment with FSBO

BUY BOTH OF THE ABOVE PRODUCTS

SPECIAL $49.00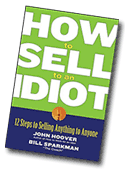 "How to Sell to An Idiot - 12 Steps to Selling Anything to Anyone."

How to Sell to an Idiot is an opportunity to lighten up a little and learn a lot. Successful selling is largely a matter of attitude – yours. The right attitude will help you get from "Hello, my name is Fred", to "Where do I sign?".

COST:

$14.95

plus shipping



ORDER HERE:
Most sales professionals still make the fatal error of underestimating their customers. If you think your customers are idiots you might be right some of the time. But, sales professionals who stop there will come up short most of the time. While some are pointing fingers and snickering at their idiot customers, others will be getting the idiot's signature on an order. An idiot's dollar buys just as much as William F. Buckley's dollar.
Our Definition of an idiot is one who hasn't a clue. Meet the clueless. Customers can be clueless simply because they don't know what they don't know. That's why it's your job to be a great teacher. Then again, you may be clueless because you don't know what you don't know. Your clueless customer, however, don't have the slightest inclination, desire, responsibility or motivation to teach you anything.
"How to Make a Fortune Working with Realtors"
$24.95 CD

How to generate loyalty and leads from Real Estate agents
Learn the 1 thing that every realtor needs
Learn how to use the "Make my Realtor Rich" program to get your realtors' attention

"Power Team Marketing"
$24.95 CD

Extreme networking action plan
Group selling strategy
Creating "Bundled Services"
How to find the 6 key members of your "Power Team"

---

---

"Total Success Goal Setting"
$24.95 CD

How to Create a Career Best Day, Everyday!
A Goal Setting and Success System that Works!
How to Move from Intention to Action to Fulfillment!

"How to Market to Small Businesses and Corporations"
$24.95 CD

Using Bundled Services To Get In The Door
How To Present Employee Benefits To The Company
Corporate Seminar Outline
How To Put Together A Powerful Corporate Benefits Package


---

---

"Button - I Sell Money"


$1.00
Owner/Manager Training and Recruiting Program
This program is a powerful training tool for new loan officers, under achievers, or seasoned veterans
It is also a great recruiting tool as an off the shelf "FAST START" training program.

INCLUDES:

Audio CD "How to Coach a Winning Team"
Fast Track Program, 6 Steps To 6 Figures. 6 audios and printable workbook
Bill Sparkman's Selling System - 4 CD Set
How to Make a Fortune Working with Realtors - CD
For Sale by Owner Marketing Strategy - CD
Power Team Marketing Strategy - CD
5 "I Sell Money" Badges

$299.95

SPECIAL
$129.00

Plus Shipping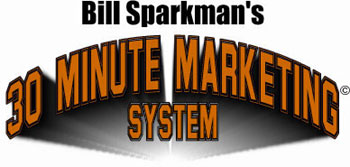 Bill Sparkman's exclusive "30 Minute Marketing System" was designed to help today's new or seasoned loan officer create a mortgage business that can produce consistent and predictable income in any market. Bill will teach you how to stay focused, generate "better" leads, and the number 1 strategy to closing more loans -- 30 minutes at a time -- GET READY TO WIN!!
5 Audio CD's

$179.00
SPECIAL $99.00
Plus Shipping

Marketing Kit C/D Rom
For Sale By owner First Aid Kit
"I Sell Money" Button
Bill Specializes in:
"Developing Salespeople Nationwide"
Sales Training

Motivational Speaking

Sales and Marketing Seminars

In-House Customized Training

Total Success Seminars